The Meriwether Society, Inc. is excited to announce the publication of the first book in The Meriwether Family in America series, "Volume I: The Colonists". This book covers the history of the Meriwether family in colonial times (1650-1750) with additional detail on the Meriwether family in England prior to 1650. This remarkable book reviews and expands the information known about the original immigrant, Nicholas Meriwether, his wives and children.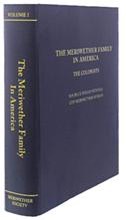 This book is in limited supply and is a must for anyone interested in the Meriwether heritage.
Click here for the order form.
Reader Comments
"Wow!! The Colonists is truly amazing. It encompasses so much."
"LOVE the new book!  I've been reading a bit every day – it reads well and is easy to follow.  There have been so many theories and discussions over the years, I appreciate you discussing each one. I like how you addressed the unknown – 'this is what we do know....this is what we do not know.....this is what we conclude....this is speculation….'"
"What a treasure...with appreciation for myself and all the future families."
"Very impressive. The pages are easy to turn and it is easy to read."
"As I've gotten in a bit deeper I'm even more impressed. This is a well-documented genealogy, but also a very well written family history. There are good discussions of cases where current thinking differs from previously published information. And the narratives are very well written. It's an excellent job!"